ANOTHER DAY....ANOTHER DRAMA
Sunday`s `walkies` evoked echoes of Thomas Hardy and Jude the Obscure with the distant glimpse of London`s Canary Wharf. This morning, Henry and I took an hour to walk around Leybourne Lakes Country Park, about a mile from home, where another more recent drama came to mind. It was a fairly brisk walk on a fresh morning and it blew the cobwebs away from both of us.
The Country Park (pictured above - please click on photo for very large image)) was one of those `planning gains` which are pretty common these days. In return for the granting of permission for housing development on what was a very large derelict area of former gravel workings, the local council agreed to take on the maintenance and upkeep of a sizeable chunk of the area, which had been turned into a country park by the housing developers. And a very good job they made of it too - the park is welcoming, well managed, with good access and varying habitats which form a significant nature reserve.
The most attractive and well-used feature are the lakes themselves, popular for angling, sailing and other water sports and Henry and I enjoyed our walk around the perimeter of the largest of them.
However, as with so much in life, all is not what it seems. Just across the road there is a big - and I mean big - Tesco Supermarket; just down the road there is a large industrial and commercial `complex` and, of course, there is the recently constructed housing development, much of which overlooks the lakes. The houses are certainly different but the setting is unique enough for it to be used as the location for the recent Channel 4 drama `Cape Wrath.`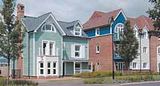 So I was left with the puzzle as to whether The Lakes housing development was really the Stepford-esque, neat and tidy, idyllic place to live it might appear to be.....or whether it hides the dark, oppressive, threatening raison d`etre so vividly portrayed in Cape Wrath.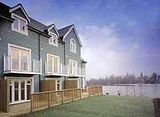 Either way, it`s a nice walk and Henry was much taken with the up-market sniffs which abounded in the undergrowth. Oh...and of course, we cleaned up afterwards!