ANOTHER BOYHOOD HERO PASSES ON......
It was the summer of 1949, when I saw my first ever first class cricket match. I remember it vividly. My parents took me to see Hampshire playing the touring New Zealanders at the old county ground in Northlands Road, Southampton.
I remember it for a number of reasons. There were players there who have stuck in the memory ever since. For New Zealand, Bert Sutcliffe and his opening partner Verdun Scott, John Reid, Walter Hadlee and Martin Donnelly, while for Hampshire there was Neville Rogers, Neil McCorkell, Desmond Eager and Johnny Arnold, who scored a century, despite the visitors winning the game by seven wickets.
But most of all, I remember my first look at Derek Shackleton, who passed away yesterday at the age of 83.
Derek - or "Shack" as he was universally known - was a phenomenal cricketer, as just some of the statistics will confirm. He took 2857 wickets for Hampshire at 14.61, trundling down 159043 balls in 26,500 overs, conceding less than two runs per over. No other bowler in the history of the game has taken over 100 wickets in each of 20 consecutive seasons and only seven bowlers have ever taken more wickets. He averaged 1259 overs a season - a figure put into some perspective by the fact that, in 2006, only Panesar with 759 overs and Croft with 702 exceeded 700 overs in the season.
Shack played in seven test matches for England, spread over 13 years and one is tempted to suggest that, perhaps like another of my cricketing heroes, Harold Gimblett of Somerset, had Shack played for a more `fashionable` county, he may have been selected a bit more often, although it has to be said that his test figures do not really match up to his county performances.
And so another of my boyhood heroes passes on and I regret his passing, not just for what he achieved for Hampshire cricket, but also for his honesty, his decency and his elegance as a cricketer and as a man .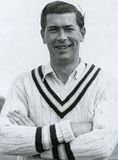 "Shrewdly varied, and utterly accurate," wrote John Arlott, "beating down as unremittingly as February rain". And as unforgettable as that faraway summer and my first taste of Shack`s excellence and the enduring magic of the real "beautiful game."