AN ENCHANTED WOOD
There`s a secret wood hereabouts, which really shouldn`t be secret at all, as it is owned by the local Borough Council and, hence, the 100,000 or so local inhabitants. But an enlightened piece of `delegation` saw the management of the wood transferred to the local Parish Council who, in turn, have arranged for the maintenance and upkeep to be carried out by local enthusiasts; and who, in turn, are reluctant to publicise it much.
These good folk came on the scene following the devastating `hurricane` in 1987. They brought forward a long-term plan for the reinstatement of the wood, oversaw the replanting of hundreds of trees and now meet almost every weekend to carry out further maintenance and improvements for the benefit of those fortunate enough to know about the wood.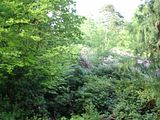 (click on photo for much larger image)
In the main, the users tend to be from the local parish - fair enough - but there are a few people who come from a little further afield. Which is perhaps why it was difficult to find somewhere to park yesterday, when with our next door neighbours and their young Retriever puppy, we took Henry for a scramble around his favourite wood.
He`s a different dog when we go there - full of running, savouring the different sniffs, careering through the rhododendron bushes....but always knowing his way through the maze of paths. In fact, we just follow him around: it`s almost as if he`s taking us for a walk rather than the other way round.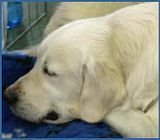 But it leaves him contented and looking forward to our next visit. I`m just sorry I can`t let on where it is.