TYPICAL, JUST TYPICAL....

Last night saw yet another example of the disaffection shown by Himself Upstairs to His humble servant down here. My beloved Saints were entertaining the Canaries of Norwich City in an evening game at St. Mary`s. I didn`t go. Not that I don`t want to go to evening games, it`s just that the long drive home late at night is a bit much.
But it`s just typical that, after months of tedium served up, last night Saints apparently played very well - there was a buzz about them, a passion and commitment which has been sadly lacking for too long. Don`t know the cause of this transformation, but I do wonder if it has anything to do with the departure of George Burley to manage Scotland.
So I missed a good game but, guess what? Despite hammering the Canaries for much of the game, it was Norwich who won it with a single goal scored on the stroke of half time. Saints hit the post three times, Stern John (he of the birth in the back end of a boat - pictured below) missed a second half penalty which would have seen Saints draw level, oh and Gregory Vignal broke his arm.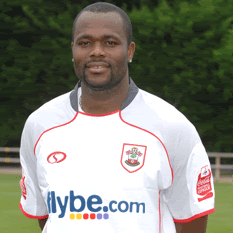 On the subject of Stern John, I can`t help wondering if he has siblings named Bow and Midships.
(Anyway, I`m just wondering what it is I might have done to deserve such disaffection from Head Office . Maybe something in a former life? Maybe Glenn Hoddle could help? Then again, maybe not.)