CINEMA NOIR......
Speaking of the Lake District, I was reminded of the first and only time I have been there.
In the harsh, long winter of 1960, I was enduring my six weeks of `basic training` as a National Serviceman at Catterick Camp in North Yorkshire. The whole experience was memorable and, in some respects at least, useful - I was taught how to turn right and left and walk quite quickly and even to turn around.
After the first four weeks, we were all given 48 hours leave, which meant that those who were able to, could go home to their loved ones. I, however, along with a fellow conscript, lived too far away to be able to get home and back again within the 48 hour period - to make it worthwhile at least.
So, on the Saturday morning, we dressed up in our army uniforms and proceeded to hitch-hike across the Yorkshire Dales - Hawes, Leyburn, Sedburgh - being given sympathetic lifts which our uniforms encouraged - until we reached Ambleside in the Lake District in the late afternoon.
We found a bed and breakfast place to stay the night and then proceeded to hit the town. Trouble was, there was nothing in town to hit apart from the local cinema, which was showing `Carry on Sergeant` - just what we could have done without when trying to banish thoughts of Catterick for 48 hours, but there was nothing else to do (so our naivite dictated!)
We slept well and, refreshed by Mrs. Miggins breakfast, we made our way back to Catterick, where the real comedy of our lives was resumed:-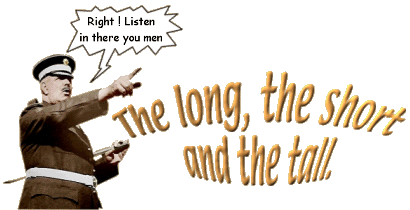 (click for larger image - it`s worth it!)
`Carry on Sergeant` was shown again on Channel 4 last week - it wasn`t funny when I saw it in Ambleside...and it`s even less funny now.