After exactly a year, it looks as if Mrs. Snopper, Henry the Retriever and I will finally get away tomorrow for a week`s `holiday` in Cornwall. The picture above shows our exact destination - Portmellon on the Cornish coast just a mile from Mevagissey. Apart from the summer weather, the picture also shows the cottage we will be staying in; it`s the little white bungalow shown on the extreme left of the picture. So it`s `close to the sea,` as promised in the brochure.
After months of non-stop treatment by ace vet, Dave Cocker, Henry has been passed fit to travel. His heart condition has thankfully got no worse....but also no better, so we will have to nurse him through next week and keep a watchful eye on how he is.
It`s a part of Cornwall I don`t know too well, so if we are able to get out and about then I`ll look forward to visiting places such as Portloe, Veryan, Portscatho, the wonderful Roseland peninsula and, of course, Mevagissey itself, location of `Johnny Frenchman,` one of my listed films, in which Mevagissey is renamed `Trevarrick` - a small hamlet just a couple of miles away. Not a lot of people know that.
I`ve just seen the weather forecast for the south-west of England for the next few days and although tomorrow looks ok, we`ll be travelling the 280 miles, so we won`t get to enjoy much of it. After that, the outlook is increasingly uncertain, with showers predicted for Sunday and much of Monday and more persistent rain from Tuesday onwards. Winds south westerly, becoming variable force 5-6, increasing to strong force 7 at times; state of the sea rough; visibility fair, becoming poor in showers.......and so on.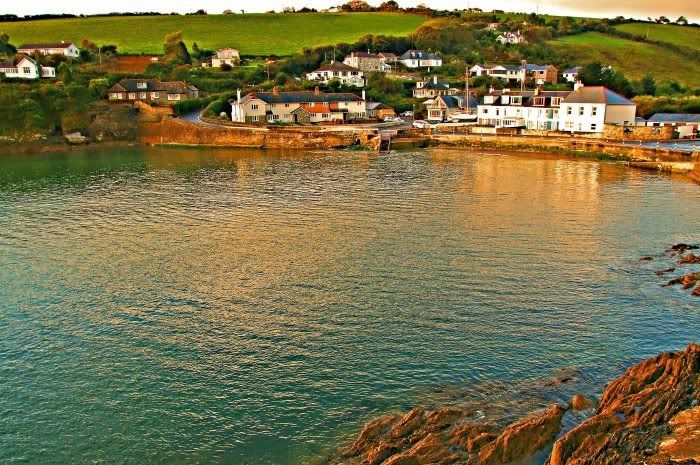 Portmellon looks nice when the weather is nice and the little white bungalow on the left of the picture looks even more inviting.