STILL WATERS STILL RUNNING DEEP
Just a few miles from where I live is the Hoo Peninsula, pictured above, which juts out between the rivers Thames and Medway. It is the land of Pip in Great Expectations, an area well known to Charles Dickens. At its north-eastern extremity lies the `Isle` of Grain, meaning `gravel,` with its vast open spaces, huge skies, power stations, sheep and marshes. The peninsula is dotted with scattered small villages, each with its own distinctive character, most of which are isolated, insular, independant communities.

June 22nd, 1954. Christchurch, New Zealand. Two young girls, Pauline Parker and Juliet Hulme, both aged 16, are on a visit to Victoria Park with Pauline`s mother, Honora. The girls have become totally devoted to each other, sharing their school lives, their home lives, their dreams.....and their fantasies. The news that Juliet`s father, a British scientist and academic, was being transferred to South Africa, has come as a devastating blow to their friendship. Pauline asks her parents if she might go to South Africa with the Hulmes to keep her devoted friendship with Juliet intact. Honora refuses and Pauline comes to the conclusion that such refusal is so devastating that her mother deserves to be punished. And so on that fateful day, the two girls batter Honora to death with a brick wrapped in a stocking.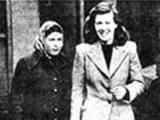 Pauline and Juliet
After a week long court case, during which Pauline tried to accept all the blame herself but was denied, both girls were sentenced to be detained at Her Majesty`s pleasure, the death sentence, which was in place in New Zealand at the time, not being applicable to them because of their age. After five years, they are released with stringent conditions being applied, one of which was that for the rest of their lives they were to have no contact of whatever form with each other. And so they go their seperate ways through the rest of their lives.
The whole dark episode was dramatically recorded in Peter Jackson`s film, `Heavenly Creatures,` which is who Pauline and Juliet thought themselves to be and, thus, the rules and laws of `normal` life could not apply to them. For more on Jackson`s award winning film, please see
http://www.imdb.com/title/tt0110005/
Intriguing though the case may have been along with the film which depicted the lives of those two young girls over half a century ago on the other side of the world, it is natural to wonder what became of them in their `afterlife,` so to speak. And here we come across two wildly differing contrasts but also two fascinating similarities.
The contrasts are in the way in which they spent their lives. After being released from prison, Juliet returned to England and became a flight attendant. For a period she lived in the USA, but later she became Anne Perry, a hugely successful historical crime writer. Upon release, Pauline apparently spent some time in New Zealand under close surveillance before being allowed to leave for England, where she became Hilary Nathan. She taught at a school for special needs children, becoming deputy head teacher, until retiring to run a riding school. Juliet has ended up leading a rather public life whereas Pauline`s has been private, quiet, introspective.

The similarities are that they have both chosen to live their private lives in small, remote communities on the far side of the world from where their story began. Juliet Hulme, now as Anne Perry, lives in the small, remote, insular community of Portmahomack on the peninsula which juts out between the Dornoch Firth and the Cromarty Firth off the Ross-shire coast. Pauline Parker, as Hilary Nathan, was last reported to still be living in one of those small, remote, insular communities on the Hoo peninsula between the Thames and the Medway just a few miles from where I live. Circumspection cautions me from disclosing the exact location. They may by chance or choice be at distant ends of the same country with contrasting sea views, but I am sure their own still waters continue to run as deep as those on which they gaze.
(Note : please click on images to enlarge.)