Right Reverend Host: "I'm afraid you've got a bad egg, Mr. Jones!"
The Curate: "Oh no, my Lord, I assure you ! Parts of it are excellent!"
This much used saying pretty much sums up Southampton FC`s start to the new season. The first game was a pitiful 4-1 home defeat to Crystal Palace. The second was a surprise 2-1 defeat in the Carling Cup away to Peterborough and the third showed a marked improvement but ultimately another 2-1 defeat away to Norwich City.
And so to yesterday`s events at St. Mary`s Stadium, where the visitors were league leaders Stoke City, who included in their line-up two former Saints players - Rory Delap and Ricardo Fuller, whilst a third, Danny Higginbotham, did not feature as he is expected to join Premier League Sunderland in the next few days.
Saints also had an absentee - Trinidad and Tobago star Kenwyne Jones had submitted a written transfer request and refused to play. Toys and pram come to mind. Following the football convention that dictates that former players must score against their former clubs, it was Fuller who scored first for Stoke. However, Saints were showing more resilience and spirit this time, thanks in no small measure to an improvement in defence, which saw a home debut for Wayne Thomas and the return from suspension of Darren Powell. Thomas takes no prisoners, is built like a well constructed public convenience and already forms a formidable partnership with the combative Powell. The signs were encouraging.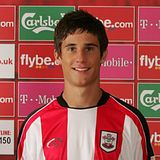 Saints equaliser came from Andrew Surman (pictured above,) born in South Africa but raised since the age of eight months in Southampton. A product of our Academy (Theo Walcott, Gareth Bale, etc) Surman has improved hugely in the past couple of seasons - so much so that among the spectators yesterday were Stuart Pearce, the England Under-21 Manager and also Carlos Alberto Parreira, the national coach of South Africa - so there could be a tug of war for Surman`s inevitable international future.
The second half saw Saints take the lead through Gregorz Raziak and go further ahead from Jhon Viafara. Stoke cut the deficit with a late goal from John Parkin, but Saints held on for their first win of the season.
The result was one thing - the performance quite another. There was an energy and determination throughout the team, there was skillful movement and one-touch football and clinical finishing - all of which being a far cry from the stuttering displays in the previous games. Players we thought of as drummers - Kelvin Davies, Jermaine Wright and Rudy Skacel - were transformed into violinists, with Surman conducting the orchestra.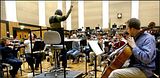 One win does not a season make, of course, but it feels good to chew on a palatable slice of our euphamistic egg, rather than crunching our teeth on the shells of defeat.