I FELL FOR IT......
Sometimes I complain about the BBC - the rubbish programmes, especially in the daytime, the blatant disregard for any sense of value for money, the unavoidable tax of the licence fee, the political correctness* and the obscene salaries paid to mediocrities like Jonathan Ross.
(*On the political correctness thing, there`s a report today concerning domestic goddess Nigella Lawson`s new cookery series. It seems the theme of the series requires Nigella to cook for a dinner party of her guests; no problem, you would think....except that the BBC compliance unit has insisted that one of the guests must be from an ethnic minority background. Yikes!)
However, I digress - the point of this rant is actually to give the BBC enormous credit for some of their recent offerings - `Building Britain,` `Mountain,` `Atom ` and the new series of `Wainwright`s Walks.` Now, this latter series depicts walks in the Lake District as explored and described by legendary fell walker, Alfred Wainwright. The series is beautifully filmed and is presented by Julia Bradbury (pictured above.)
A feisty girl is our Julia - all long legs, hair and teeth - and she strides effortlessly up the fells, across ridges, for mile after mile. She must be very fit and the gods clearly smile on her, as each day seems to be bathed in sunshine even though the Lake District is England`s wettest region.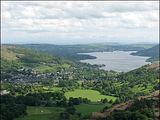 (Click on photo for larger image)
I think I fell for Julia`s obvious charms....but also for the scenery, exemplified by the above view of Windermere and Ambleside.