AWAY FROM IT ALL
"Clunton, Clunbury, Clungunton and Clun
are the quietest places under the sun"
So wrote AE Houseman, author of the epic poem `A Shropshire Lad`
And he may have been right - Shropshire is one of those places I have long wanted to visit, but not quite got round to yet. Along with so many other places in this country, Shropshire and the Welsh Marches are there to be explored, along with Northumberland, Cumbria, East Anglia, the Forest of Dean and a whole host more. I`ll get around to seeing them all one day, I`m sure.
For now, though, my holiday destinations seem to be confined to the West Country. For more years than I care to remember there has been a kind of automatic pilot which draws me inevitably to Devon, Dorset and Cornwall. Maybe it`s my Dorset origins, maybe we had so many happy West Country holidays especially when our three sons were very young - all they wanted was somewhere to stay, a beach, sun, surf and something to eat and they seemed happy - and I`m sure that if the kids are happy, then the parents have a chance of being so too.
For the past few years, we have been to different parts of Devon and Cornwall - Woolacombe, Croyde, Newton Ferrers, Mothecombe, Huntshaw, Trelights, Port Isaac, Carbis Bay, Praa Sands....and this time next week we will be here:-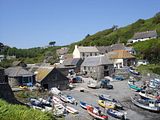 Cadgwith is an unspoilt fishing village just to the east of Lizard Point - the most southerly point in England. We`ve visited Cadgwith a number of times, sitting on the Todden watching the fishing boats come and go, but we`ve never stayed there, so despite the 350 miles drive, I`m looking forward to spending a fortnight there in an afternoon, for it has that timelessness about it.