You know the old saying - that sometimes it`s better to travel than to arrive. Well, in the last week, I`ve done my share of travelling. A week ago today, we travelled the 280 miles from home to Portmellon in Cornwall and yesterday we travelled the 343 miles coming home the pretty way, via the A39 Atlantic Highway, a pitstop in Camelford and a longer stop in Appledore in Devon before joining assorted motorways to carry us home again.
Whilst we were in Cornwall, we managed to visit one or two places we hadn`t visited before, one of which was the church of St. Just in Roseland (pictured above.) I had seen pictures of it before and seen it featured in TV programmes about Cornwall but none of them prepared me for what I discovered there. A glorious setting, deep in a sheltered valley overlooking St. Just Creek, the 13th century church is surrounded by quite the most well cared for churchyard it is possible to imagine - all winding pathways, sub-tropical plants, tinkling streams and manicured lawns. And all this captured by a silence, a quiet which is almost reverential, as if nature itself knows how special a place this really is. It was a privilege to make the visit there and an occasion when it truly was better to arrive than to travel.
As to the rest of the week, the weather did us no favours, but at least the forecasts were accurate in their promise of high winds and heavy rain, all of which were visited upon us. None more so than the overnight storm, which produced the waves breaking over Portmellon harbour, captured in this picture taken yesterday morning and posted on the BBC website.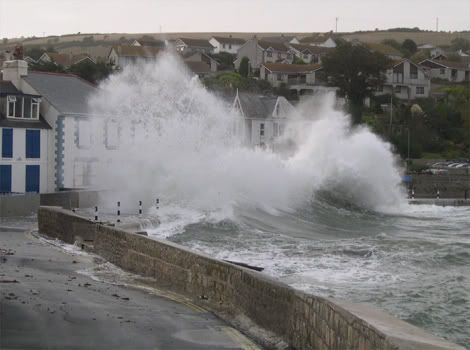 You can see now why we decided to cut short our `holiday` and make a day of coming home the pretty way. It was nice to go travelling, but - St. Just in Roseland excepted - so much nicer to come home.