HOW DO YOU SAY `THANK YOU`?
Like millions of others, I was genuinely sorry to learn of the passing of Paul Newman. Now, I`m not one for sentimental obituaries and it`s certainly not my place or intention to write one here - countless others will be doing that. But I have long admired Newman for what he was - an actor of towering talent but also a humanitarian gentleman, devoted to his family, his causes and his profession. Truly, he leaves us with, quite literally, an enviable reputation.
Again like others, I first came to value his performances when I saw `Butch Cassidy` and I was enthralled by George Roy Hill`s brilliant direction of the talent at his disposal - Newman, Redford, Katherine Ross. I can`t say I`ve seen every film Newman ever made, but I`ve seen enough to appreciate his talent.
Critics will debate his best work, with `Cool Hand Luke` among the front runners already, but for me the one I most enjoyed was Sydney Pollack`s 1981 film, `Absence of Malice,` in which Newman played Michael John Gallagher, an innocent abroad plagued by injudicious reporting by the Miami Herald to the extent that he is forced to overcome the forces of commerce and bureaucracy maliciously railing against him.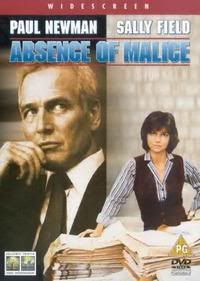 I suppose, in the totality of Newman`s work, `Absence of Malice` might be overlooked by the more commercially successful films he made, but that would be to overlook too the quiet, determined, understated compulsion of the character he portrayed. It received three nominations for Academy awards, but didn`t get any, despite the screenplay being written by Kurt Luedtke, who went on to win an Oscar for his screenplay for `Out of Africa.`
After 83 years, Paul Newman has left us with a legacy that we can still admire and enjoy for years to come. It`s difficult - and now impossible anyway - to say `thank you

` in any way that sounds even remotely adequate.