Damien Hirst`s The Physical Impossibility of Death in the Mind of Someone Living, pictured above
, was originally commissioned by Charles Saatchi in 1991 at a cost of £50,000. In 1994, it was sold to New York hedge fund manager Steve Cohen for about £5million. I don`t like it much and it seems the formaldehyde is already going murky and will cost a six-figure sum to put right.
Yesterday was the first of two days of sales of Hirst`s work at Sotheby`s and the

tot
al sale value was over £70million, which on a day when the world`s stock markets were in freefall says much about the price of things and their value. I guess if Cohen falls on hard times he can always try and sell it.
I don`t like `modern art.` I quite admire the experimental nature of some of it and the statements made by Hirst, Emin, Whitehorn and the rest. But to pretend they represent real art doesn`t wash with me. A lot of it is pretentious, ugly, temporary and overpriced.
Now here, in my humble opinion, is what `modern art` should look like:-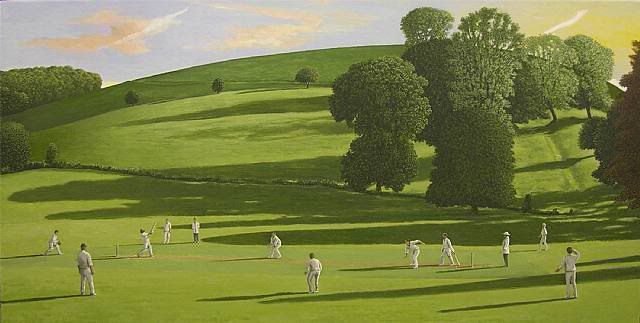 David Inshaw was a founder member of the Brotherhood of Ruralists, which was formed "in opposition to the scholarly nature of contemporary art which believed that paintings were only really valid if they addressed social questions. Our aims are the continuation of a certain kind of English painting. We admire Samuel Palmer, Stanley Spencer, Thomas Hardy, Elgar, cricket, the English landscape and the Pre-Raphaelites."
They`re talking my language.
For me at least, Inshaw`s painting of the cricket match at Little Bredy in Dorset represents what I look for in art. It may be `simple,` it may not challenge, but when I`m gazing wistfully at my walls, I`m pretty sure I would rather be confronted by Inshaw`s work than anything more `modern,` as it paints a thousand words more than Hirst`s ever could .