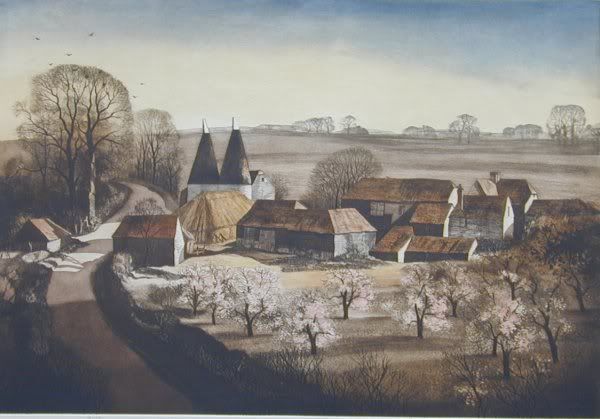 Touching again on my `art` theme for this week, I have been much taken by the reports today that to see good works of art - especially paintings - not only helps to relieve stress but also can actually reduce any levels of physical pain one might be suffering.
Apart from artists like David Inshaw, I have long admired the work of local Kent artist Rowland Hilder.
Years and years ago, when I was leaving a job in Maidstone to seek my fortune (which I didn`t) in the stockbroker belt of Surrey, I was asked what I might like for a leaving present. I chose a framed print of one of Rowland Hilder`s scenes of Kent. Like Inshaw, Hilder`s work, such as the one shown above, does not pretend to say anything other than `look and enjoy.` And there`s no doubt that one can get lost in the landscape, the atmosphere, the peace and tranquility of works like this.
Rowland Hilder was born in 1905 in Great Neck, Long Island of English parents. When he was 10, the family moved permanently back to England so his father could do his patriotic duty and join the forces fighting in World War 1. The family settled with Rowland`s grandparents in the small Kent village of Birling - a mile or so from where I live - which Rowland described as "miles from anywhere. Even the people in the next village of Ryarsh were considered foreigners."
After his father returned safely from the war, the family moved to New Cross in south east London and Rowland`s skill at drawing eventually saw him admitted to nearby Goldsmiths College where, in later life, he was to become the college`s Professor of Drawing.
although Hilder also produced work depicting other parts of Britain, he is perhaps best remembered for his scenes of the landscapes and seasons of his adopted county of Kent, such as this one:-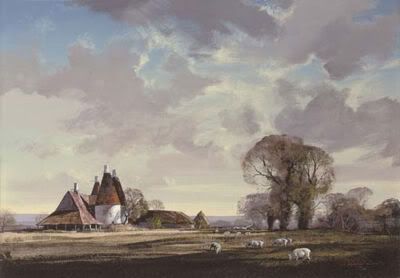 Now, paintings like these may not be `masterpieces` in the accepted meaning of the word, but they do exactly what it says on the tin - `look and enjoy.`